Front Line HT by WigPro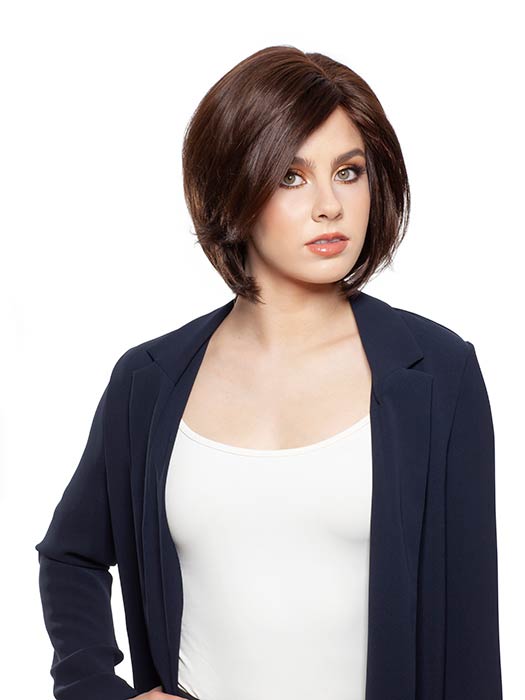 Front Line HT by WigPro
$660.99 $777.00
WP-307:01
Human hair topper with pull-thru on left and right to blend with your own hair.  Can be worn chin length, shoulder length and can be used to add bangs. It is an ideal solution for frontal hair loss. The monofilament strip offers coverage and styling versatility, while the spaced wefts allow seamless integration into the crown.
Type: Top Piece
Collection: Wig Pro Human Hair Pieces
Base Design: Mono/Skin Top | Hand Tied with Pull Through Layers | 4 Clips
Fiber: Remy Human Hair
SKU: 307
Measurements:
Overall Length: 10" (25.4 cm)
Base Dimensions: 4" x 5.5" (10.16 x 13.97 cm)
Weight: 1.5-2 oz. (42.52-56.7 g)
Features:
• Pull Thru: This piece features left and right spaces for pulling your own hair through letting you customize your look.
• 4 Clips: Holds the piece in place
• All Hand Tied: Creates the appearance of completely natural growth.
• Monofilament Top (Mono-Top): Fine nylon mesh with individual hairs hand-tied into the mesh. Allows hair to be parted in different directions and creates illusion of natural hair growth.
• 100% Tangle-Free Super Remy Human Hair: Human hair with the complete hair strand including the cuticle which retains its ability to remain tangle-free and retain its original luster. Super Remy hair has been treated, but not compromised, to provide a consistently soft, healthy and natural look.